Annele washes M'lynn's hair.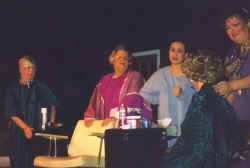 "Steel Magnolias"; October 2000
Ouiser ponders how "MY" magnolias ended up in M'lunn's pool.
VHS Videos of several Shed/LRT productions will be available for members of the Cast & Crew who participated in The Shed/LRT productions! Pre-order your copy now!
~ Butterfingers Angel
~ Contact the Cotters at kcarts33-shed[atsign]yahoo.com if interested.
~ These tapes are for private viewing only & are NOT to be sold!
Additional Photos of Events at The Shed:
The Shed in Port Royal
809 Parris Avenue
Port Royal, South Carolina 29935
For SALE or LEASE of PROPERTY (Shed Buildings and Land):
Contact
Henry Chambers of Beaufort Realty
for property pricing, dimensions, specifics, etc. See The Shed
Facilities
for property layout, and other pages on The Shed web site for additional photos. Please Note: Only items attached to the walls are included with The Shed facilities & property. (Some portable items may be negotiable.)