Currently homebase for CLUB KARATE!
PHOTOS and DETAILS posted below Floorplan.
All measurements are approximate.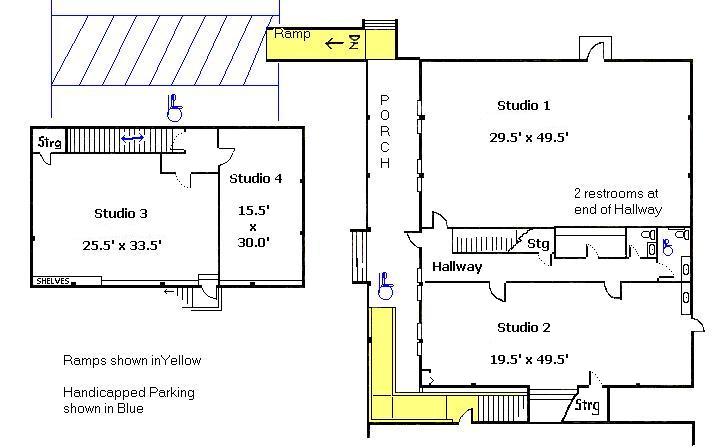 Shed Multi-Use Building, 1st & 2nd Floors
The Shed Multi-Use Building: approx. 4,343 sq. ft.
FIRST FLOOR
Studio 1 (Club Karate): 1,460.25 sq. ft.; 18+' ceiling; sprung floor w/vinyl surface; 6' high mirrors along studio entrance wall; (barres along fire-exit wall & portable adjustable barres available if desired)
Studio 2: 1,065 sq. ft; 9' ceiling; vinyl tiles over concrete; 4' mirrors between doors to hallway; 7' cabinet w/sink; hot water heater under counter; power utility box & fiber optic hook up in power closet in corner.
Hallway: 9' ceiling; vinyl tiles over concrete; storage under stairs; changing room; 2 restrooms, 1 is handi-capped accessible.
SECOND FLOOR:
Studio 3: 854.25 sq.ft; 8' ceiling, padded vinyl flooring over wood; 6' mirros along wall by stairs; built-in shelves along wall by outside exit; storage closet.
Studio 4: 468 sq.ft; 8' ceiling; carpet over wood; washer/dryer hook-ups.
Contact HENRY C. CHAMBERS
BEAUFORT REALTY
843-525-0028
Studio 1 - Multi-Use Bldg. 1st Floor

Club Karate Classes; approximately 1,460 square feet.
Jayne Richardson Dance Recital 1997
Tiny tots at dress rehearsal, Mother's Day weekend, May 1997.
Studio 2: approx. 1,065 square feet.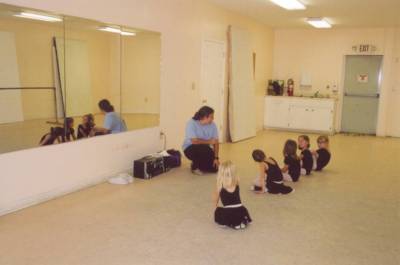 The back half of the room: mirrors on left wall, sink/cabinet in back.
Studio 3 - on 2nd Floor; 854 sq ft.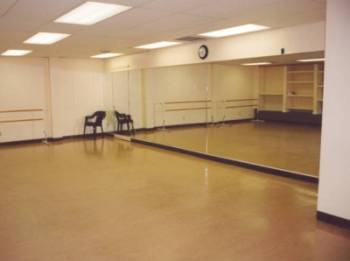 Built-in Shelves run along left wall (partly visable in mirrors on right)
Studio 4, 2nd Floor; approx. 468 sq ft.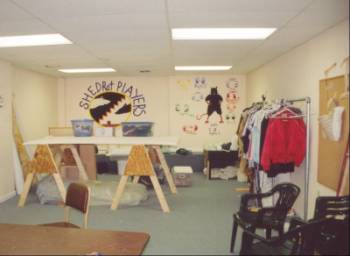 located at the top of the stairs; W/D hook-ups.
Additional Photos of Events at The Shed:
The Shed in Port Royal
809 Parris Avenue
Port Royal, South Carolina 29935
For SALE of PROPERTY (Shed Buildings and Land):
Contact
Henry Chambers of Beaufort Realty
for property pricing, dimensions, specifics, etc. See The Shed
Facilities
for property layout, and other pages on The Shed web site for additional photos.
Please Note: Only items attached to the walls are included with The Shed facilities & property. (Some portable items may be negotiable.)